Last modified by: Kevin Zimmer -
Daily Approval Shift Cost Estimate Report
The Daily Approval Shift Cost Estimate Report is a tool that can help you budget and estimate costs for hours worked in your departments.
Based on the filters you select, the report will display hours from Daily Approval, the employee working it, their pay rate and a calculation of how much this will cost.
Note that the calculation does not take into account overtime rates, or special pay code rates such as multipliers for hours worked on statutory holidays, flat rates for overnight shifts, etc.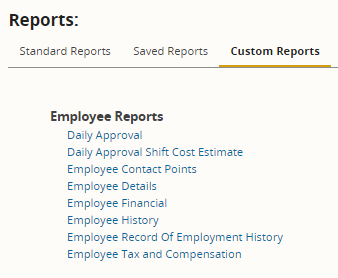 Click the Reports in the main menu and find your way to the Custom Reports tab.
Click Daily Approval Cost Estimate Report to launch it in a new window.
Note: If you are unable to see this link, contact your system administrator to gain access.
To get data, indicate the date range, employee and department in the Pre-Filters. Click Submit.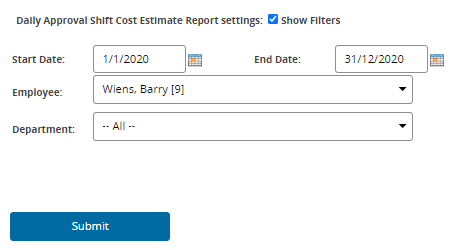 Based on the filters selected, the data will appear in the table below.
You can customize the report further by using the online report options or exporting to Excel.

Contact the Alpine Crew!
204-478-3707
alpinecrew@ibexpayroll.ca