Last modified by: Kevin Zimmer -
iPaystubs appearing blank
We've received reports of a bug on ios 10 and Google Chrome that causes earnings statements to appear blank.  We are currently researching long-term solutions to this problem but in the meantime, the statements can be viewed by opening them with the Adobe Acrobat Reader app. 
If you are experiencing this problem please review the following steps:
 On iPhone:
1) Download the "Adobe Acrobat Reader" app
2) Open your earnings statement file but when prompted to enter a password, instead click on the menu icon on the bottom left of the screen (see screenshots below)
3) On the second level of the menu you should see a list of apps.  Scroll right until you see "copy to adobe acrobat" and click on that option
4) You should now be able to open and view your ESOE regularly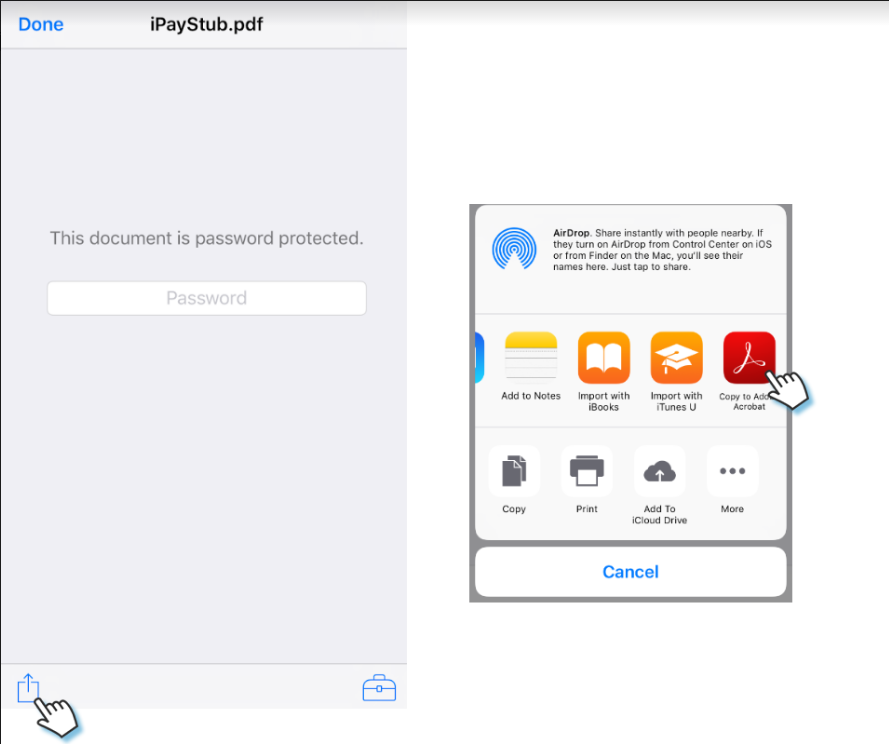 On desktop:
1) Download the Adobe Acrobat DC Application
2) download your statement of earnings
3) Open the downloaded file in Adobe Acrobat DC
As always, if you have any questions or concerns please call us at 204-478-3707 or email us at alpinecrew@ibexherd.com
Regards,
Kevin Zimmer
Contact the Alpine Crew!
204-478-3707
alpinecrew@ibexpayroll.ca